After the Sikap campaign or the Road Safety Campaign conducted by the authorities, the Road Transport Department(J.P.J.), the police and others, no more tragic and horrific incidents were reported this year.
The J.P.J followed up the above campaign with stringent checks on tour and express buses. The Road Transport Department at one stage was reported to have resorted to buying tickets and boarding express buses to check upon the antics of buses' drivers.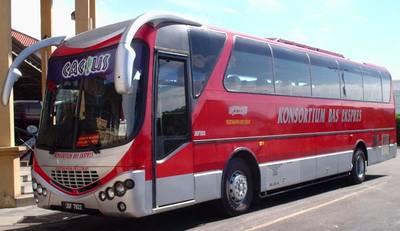 For over more than 40 days, the public did not hear of any reports of accidents after that "No news, they say, is good news." But is this really true?
Then on Sunday 20 March, 2011, what Malaysians have so often feared to hear and read about happened again. At KM 341.9 of the North-South Highway, to be exact, near Bidor, Perak, a bus express was reported to have been involved again in another tragic accident.
Six passengers who were badly injured were reportedly taken to hospitals in Tapah, Teluk Intan and Ipoh. 2 others who sustained minor injuries were sent to the Tapah Hospital.
Unfortunately, a 74 year old passenger of the express bus, Sahad Shariff Md Din, 74, died in the above horrific accident on that fateful night. Although himself injured, Shariff, was rescuing other injured passengers when the ill fated bus express, was surprisingly hit for a second time by, of all things, a large container reportedly said to be carrying paper reels.
The container had rammed into the back of the express bus. As a result, Shariff, a good Samaritan, was himself killed while attempting to rescue others. He died in the process of trying to help others. A real "hero" indeed!
Regarding the above accident, Tapah O.C.P.D., Superintendent Roslan Bek Ahmad, told reporters that it took the Fire and Rescue Department personnel over more than an hour to free the 3 victims trapped in the mangled wreck!
Let us now study what's the reason why so many express buses are involved in tragic accidents. It has now come to a stage whereby the public has come to consider travelling by express buses as being one of the most dangerous mode of transport.
I have friends who would wish to sight see our own country. These friends normally visit oversea countries such as Taiwan, Japan, Australia, South Korea, Italy and other European nations.
My own wife has seen and visited most countries of the world. Due to natural disasters such as earthquakes and tsunamis which recently hit Japan, our closest neighbour, these group of Malaysians now feel that they should visit tourist spots back home.
Most Malaysians have yet to see tourist attraction spots in our country. One example is historical Malacca. Pulau Pinang is yet another interesting place one should pay a visit to. "Betong" in Kedah, I think is another interesting place in Malaysia that is worth visiting too.
This group of friends of mine, who are in the age group of 50 and 60's, have a lot of time on their hands. They are willing to spend their weekends, on Saturdays and Sundays, to visit places such as Kuantan, Ipoh, Johore Baru and so on.
The above group of people feels that the best way to sight see the entire country is to travel by bus. But they feel they should travel by bus only during daylight hours. They have come to a conclusion that to travel by express buses during the night, is extremely dangerous.
Most accidents which involve tour buses normally take place when it's way past midnight. Very seldom do we hear of accidents happening during the daylight hours. As such, they feel that to travel by express buses or tour buses during the night is an emphatic "no-no" for them.
What seems to be the reason for the express buses being involved in so many accidents? It's never a waste of time delving into it. Amongst some of the most likely reasons or factors why express buses seem to be involved in numerous accidents must surely be:-
1) Buses in poor physical condition.
As an instructor, and one who has to send his driving school vehicle for inspection by the Puspakom authorities once every 6 months, I have seen how trailers, school buses, tour and express buses being sent for inspection. Furthermore, most express and tour buses are normally new vehicles which are beautifully designed and physically they are in superb condition.
I believe that poor conditions of buses are definitely not a cause for buses being so rampantly involved in horrific accidents. It "physical" reasons do not seem to appear to be the cause for accidents, then there surely must be other reasons we should be looking into instead.
2) Poor discipline and ethics of our tour and express bus drivers.
This factor, I feel should be given prominent emphasis. The fact that foreigners feel that Malaysian drivers represents one of the worst drivers in the world, without a doubt lend weight that Malaysian bus drivers are perhaps not a very disciplined lot.
Unlike in other countries, especially in European nations like England, France, Germany and Australia for instance, where bus drivers are provided proper training and are coached specially by companies to handle buses, in our country, no such training exists.
Normally, an express bus driver is employed by a company here based on one's experience and the number of years he has been in the field. I have yet to hear of any bus company that provides special training for its staff.
But Kontena Nasional and Shell are but some of the rare companies that do provide training for its drivers. Maybe, it is about time for large bus companies and concerns to start a programme to provide training for its fleet of bus drivers. And in doing so, hopefully the rate of accidents involving bus express will then decrease.
3) Speeding.
The government should limit the speed limit express buses are allowed to travel on our expressway and highways. Buses with 44 passengers are rather difficult to handle. Highways allow a speed of 90 km/h. Whereas, on expressways, the maximum speed limit permitted is 110 km/h.
The above speed is acceptable for day time travel. But at night, things are different. Vision becomes poor. Dangers tend to lurk at all corners other vehicles on the road tend to break down, causing bus drivers immense difficulties.
Accidents can easily happen especially during the night. As such, express and tour buses should adopt a much lower speed of travelling. I hold the opinion that the night speed a tour or express bus should be allowed to travel should be 70 km/h.
As they say in Bahasa Malaysia, "biar lambat asalkan selamat". "Travel a little bit slower, as long as everyone is safe" should be the maxim that should be adopted..
4) Talking to passengers.
Express and tour bus drivers should refrain from holding conversations with passengers and also refrain from using handphones whilst they are driving.
My daughter, and my wife, recently returned from a holiday in Turkey. They told me, bus drivers there, make it a point not to engage in conversations with passengers while they are driving.
Bus drivers in Turkey, adhere to a strict speed limit too. Stern actions are taken against drivers who break the law. Furthermore, my daughter informs me, in Turkey, tour and chartered buses seldom move after night fall.
It is believed by the authorities that to travel during the night is dangerous. Buses are encouraged to travel only during the daylight hours.
Speaking about the use of handphones, authorities like the Road Transport Department and the police should impose heavy penalties on bus drivers who possess handphones whilst they are driving.
5 ) Lack of drivers.
There should be a minimum of 2 bus drivers for every express or tour buses. This requirement should be strictly enforced, especially during the night.
Long distance travels, say from Penang to Kuala Lumpur or from Kuala Lumpur to Singapore are more than 250 km. A driver tends to get tired driving such long distances. Ideally such long journeys should ideally have 2 drivers for each journey.
Besides drivers, a tour or express bus travelling such cross country runs, should stop half way for rests and refreshments.
In the 1970's, I travelled rather extensively from Penang to Kuala Lumpur. Our buses, which normally leave the bus depot at Putrajaya, Kuala Lumpur at 10.00 p.m. would make it a point to stop at Ipoh, Perak, at around midnight or 1.00 a.m.
Likewise, an express bus leaving the Sultan Abdul Halim terminal at Bukit Mertajam, at 10.00 p.m. would also make it a point to stop at Ipoh at around midnight or 1.00 a.m.
"Mid way stops" recommended for express buses at the times suggested above, tend to bring about a few benefits such as:-
i. Passengers and bus drivers would feel invigorated or "refreshed" as a result of stopping for a rest at half way houses as they are called.
ii. The approximately half an hour stop which the bus makes goes a long way in giving the engine a deserved rest. The same also to tyres as well.
What about the trailer which was carrying paper reels crashing into the express bus? How could a trailer crash into an express bus that has already met with an accident on the expressway? It is most perplexing!
It clearly indicates that the trailer driver has been driving rather carelessly. Crashing into an bus express that has already stalled on the road, tantamount to careless driving. Under Section 41 of the Road Transport Act 1987, a driver can be charged rather severely.
It all clearly indicates that amongst today's drivers of huge trailers and lorries, there are some who do not seem to be competent at all. They do not appear to be able to handle huge vehicles well. Crashing into another huge vehicle that has already got into an accident on our expressway or highway is something that should not have happened. The driver responsible for it should rightfully be banned.
Besides being incompetent, the trailer driver might have undergone tremendous strain of driving. In short, he was most probably extremely tired at the time he crashed into the back of the express bus. The trailer driver should undergo a medical test to determine if he has been on "drugs" or otherwise.
To date, the public is yet to know what exactly happened to the express bus which was involved in the tragic accident at KM 341.9 near Bidor, Perak. Maybe at a later stage, there may be more details regarding the above incident being given out to the public.