A tour bus or an "express" bus can carry 44 passengers and 2 drivers. All in all, it can ferry a total of 46 altogether. The "fate" of 46 people infact lies in the hands of one person, the bus driver.
Before proceeding any further with this article, permit me to tell readers that in reality, driving a 46 seater express or tour bus, is not a piece of cake, as the saying goes. In short, it is not as easy as some people think it is.
A few important criteria has to be met, if you are to be able to handle a tour or express bus well. First of all, a good bus driver should ideally have a few, if not all of the qualities which I have laid down below. What criteria are we talking about?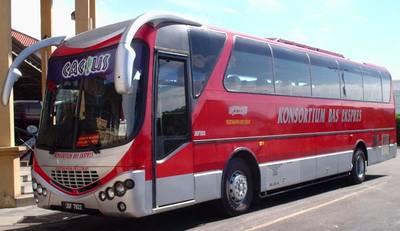 One, a tour or express bus drivers should possess ample driving experiences. Next, he should possess very good eyesight or "vision". Night driving obviously requires this ability. And finally, it should not be forgotten, that a bus is a heavy and long vehicle.
With 46 people in it, believe me, it is not an easy task handling it. The air-brakes system, which a bus uses, is not an easy thing to master. These brakes are very sensitive and powerful. A bus driver who fails to be able to make use of the brakes, successfully, can easily cause accidents happening.
On top of all these criteria, which a bus driver should be in possession of, he has to hold an "E" full license as well. "E" license permits one to drive large vehicles such as lorries, trailers and buses. Only a small percentage of people possess this unusual capability to drive buses.
Readers might wish to inquire, am I qualified enough to write upon such an important topic as required by today's article? For your information, I feel that I am competent enough to tackle the subject of today's article.
Nevertheless, I shall lay down my credentials, to allow one and all to determine and evaluate my knowledge about travelling long distance by bus, especially during the night. And not only that, my experiences of travelling by buses are mostly for long distances, which span over a minimum 450 – 500 kilometers. These distances represent "inter-state" journeys, from Kuala Lumpur to Penang and vice versa.
Besides this, I have organized numerous other excursions for groups as well. As a driving instructor with over 40 years of experience, I used to travel in all types of buses when I was much younger. In fact, I have travelled extensively by express bus all throughout the nation, especially from North to South.
Where, readers would like to know, have I travelled in reality? If you should read my articles elsewhere in my blog, amongst the trips which was organized by my co-organisers and myself, were trips made to:-
i. Penang Island in the 1970's.
ii. To Singapore Island also in the 1970's and early 1980's.
iii. Travelling in express buses very frequently (which were mostly made during the night) with my friends and "comrades" such as Salim Bajuri, Rashid Hashim, Mr. Wong B.M, Mr. Yap C.F. and a host of others, whom he has forgotten since.
To tell you the truth, I travelled a total of 3 times per week to Penang and back for a period of nearly 2-3 years by express buses. The journey from Penang to Kuala Lumpur and Kuala Lumpur to Penang is an arduous journey, which takes at least 7 to 10 hours per journey.
After knowing the background of my experiences travelling in tour and express buses, would you now hesitate still to consider me as having the knowledge and know how to assist the authorities on how to solve the problem of tour and express buses getting involved in crashes these days?
Talking about tour and express buses, allow me to cite to readers the names of some of the companies whose buses I used to travel in years ago.
Amongst some of the buses, I can still remember frequenting and using were:-
i. Mora Express
ii. Ekoba Express
iii. S.T.P. Express Company
Sad to note that other bus expresses which I have travelled on has since been forgotten, due to many number of years that have elapsed. But I still remember the above buses making scheduled stops at Ipoh, Perak.
Another thing which I can still remember, was that the express buses normally have 2 drivers for each journey. All the above steps were for safety purposes.
Referring back to the trips that I organized to Penang Island and Singapore Island, for both the above trips, we used an air-con bus belonging to the Kuala Selangor Onimbus Company. Our drivers included a Mr. Raman and his co-driver, a young Chinese man by the name of Kah Yong, from Jalan Bukit Kuda, Klang. Another bus driver I knew was a Mr. Ah Leong, who drove buses for the Kuala Selangor Onimbus Company for many, many years too.
All the above bus drivers, have time and again, shared with me their opinions and advices with regards to how to go along preventing bus accidents from taking place.
Besides all the experiences which I have divulged regarding my travels in bus expresses, one other important factor which I should also tell readers about is this. When travelling in a bus express, especially along the Karak Highway, I make it a point to elect sitting at the first seat, directly behind the driver. In this position, I am able to observe the driver's habits and modes of driving.
From my personal observations, it is my opinion that a speed of 70- 80 km/h appears to be the most ideal speed for a bus express to travel. At such a speed, the drivers seem to be able to control the vehicle competently.
I have frequently observed that at speeds of 90 km/h or above, an express bus driver, will have some problems handling the bus well. Based on the above observations, it is my opinion that tour or express buses should maintain a speed of no more than 80km/h.
It is therefore hoped that the authorities will take note of my suggestion and take the necessary steps to introduce 70 – 80 km/h as the new maximum speed limit allowed on expressways for tour and express buses to travel.