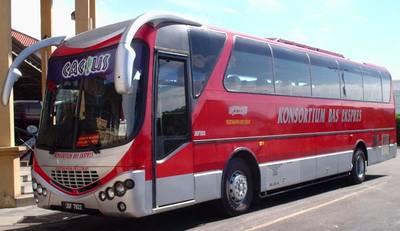 My experiences travelling in buses began as a young boy. I was then staying at the 2nd mile, Kapar Road, Klang. I remember travelling in blue coloured buses owned by the Kuala Selangor Onimbus Company (K.S.O.C). This company, for readers' information was run by Klang's well known Chinese entrepreneur, Mr. Tong Kok Teck and his family.
If readers should read one of my earlier articles in the blog, you surely must have read an episode whereby my grandaunt once travelled down from our ancestral abode at 136, Kapar Road to Klang. Being a fat, jolly old dame, the bus, which she embarked one fine day, suddenly moved off before she could find a seat.
Fearing that she would fall, she had to find something to hold on to. Luckily for my aunt, Madam Tan, she saw a young, Chinese lad, with long, "Afro" looking hair sitting near to her. My aunt, launched her hands into the young lad's mane, holding on to it for dear life. Her actions may have prevented her from falling. But it caused the victim's face to turn red, like a cooked lobster!
While staying along Telok Pulai Road, Klang, in the 1950's and 60's, our family then possessed no cars. We then had to travel extensively by using the familiar "blue and yellow buses" belonging to the MARA Express Company.
When working for more than 10 years or so in Kapar Town, Selangor, I used to frequent buses run by the Kuala Selangor Bus Company almost daily. I still remember paying approximately RM1.50 going to the above town, which was located some 10-15 kilometers away.
In the 1960's, I once worked as a "temporary" teacher in a small, sleepy hollow of Telok Datok, some 18 kilometers from Klang. In fact, I was attached to the Methodist English School (M.E.S.) under auspices of a MR. Vincent Daniel, who happened to be the younger brother of the then, well known principal of my alma mater, the Anglo Chinese School (A.C.S.) Klang, situated at Jalan Raya West, Klang, he was Mr. D.R Daniel.
In those days, I travelled mostly via express buses run by the MARA Bus Company of Banting. Without those buses and the services which they provided, I would surely be at a loss going to my place of work in those days.
I have already written quite extensively about my association with tour or express buses in my earlier article entitled "How To Seriously Consider Attempting To Solve Bus Accidents". I was then in Penang doing my studies there in the 1970's. I had to travel to and from Penang Island a total of 2-3 times per week then.
I can still vividly remember that I used to travel in express buses such as MARA Express, Ekoba Express and S.T.P. Express Bus, amongst others. It costs me RM13 or so to travel from Penang in those days. Reflecting upon it, I feel rather strongly that without the services provided by "buses" in those days, my studies in the Pearl of the Orient, as Penang is so well known as, would certainly have not been achieved. "Syabas" to the bus express companies which provided me with their invaluable services way back in the 1970's.
Talking about the subject of travelling by buses, I feel that the trips I organized to the "Lion" city of Singapore and also to Penang Island, way back in the 1970's, should also be given mention as well. For both the above trips, we used an air-con bus belonging to the Kuala Selangor Onimbus Company, Klang.
In Penang, we remember visiting the former Prime Minister or "Bapa Malaysia", Tengku Abdul Rahman Putra Alhaj, at his home, "Takdir" at No.1 Jalan Tengku, Penang. We also visited my interesting places in Penang such as the Governor's Residence; a batik factory in Telok Bahang, a "sardine" factory located in Riverside Road, Penang and also the annual exhibition or "expo", which was held at Sungai Pinang site, near Bayan Lepas.
Thinking back regarding our trip to Singapore Island, which I organized with my colleague, Mr. Chee H.C., amongst the interesting places the group visited were the "285 feet above sea level cable car" to Sentosa Island. The Japanese Gardens, the Chinese Gardens, the Aw Boon Huat Tiger Balm park, the Janjong Katong beach, the famous "Bugis Street", where the "maknyahs" were located, and finally the Botanical Gardens, where according to history, the first "rubber" seedling brought here by H.N. Ridley from South America, were planted.
Although our trip to Singapore was an enjoyable and fruitful, yet educational one, nevertheless, it should be reiterated here that there was one thing the organizers and the group felt we failed to achieve, and that was our intention and mission to meet face to face with the man whom we have learnt so much about in our everyday "History" lessons!
And that being, meeting the first Prime Minister of Singapore, Mr. Lee Kuan Yew himself. The group in fact had written to the Prime Minister, but at that particular time, Mr. Lee was himself facing a political crisis. Singapore, was then in the process of breaking up with Malaysia. Nevertheless, even though Mr. Lee Kuan Yew was unable to meet with us, he did however advised his Secretary to provide our group all the assistance we required for our visit to Singapore.
As a result, our group of 50 or so youths and organizers, were accorded a fantastic stay at the National Youth Training Centre in Ang Moh Kio, I think, for RM1.40 per day, with breakfast thrown in.
So much my endeavours of travelling in buses in the 1970's and 80's. Whether you believe it or not, even up to this day, I still travel quite a lot in buses. Buses anyway, are a layman's mode of transportation.
Once in every two or three days, I still travel from Klang to Kuala Lumpur. To travel to Petaling Jaya, one has to pay approximately RM1.50 to RM2.50. If one were to stop at Pasar Seni bus station in Kuala Lumpur, then one has to pay a sum of RM3.00.
What buses do I travel on these days? Amongst the buses I frequently use are buses from the Causeway Link Company, Seroma Bus Express, Rapid KL and also not to forget mentioning "Citiliner" bus expresses, owned by the Konsortium Transnational Berhad (KTB). In reality, the purpose of writing this article is not to relate to readers about episodes of my bus travels over the years.
It is in fact to highlight the woes facing bus companies, especially "Citiliner" buses. Citiliner buses services in Selangor, with effect 13th December, 2011. The Konsortium Transnational Berhad or KTB, is in the process of seeking the Selangor state government's assistance.
According to KTB, the Company is reported to be incurring a loss of some RM8 million per year. Unless and until the Selangor government extends KTB some form of help, the public or "rakyat" will be the ones who will suffer.
The question the public would be asking is, should or should not the Selangor state government throw the Konsortium Transnational Berhad, the "life line" that it needs. Well, Menteri Besar, Tan Sri Khalid Ibrahim, how about it? What do you think?
Concerning the dilemma that is faced by bus companies these days, the STAR daily newspaper in its editorial, did a write up. The editorial reiterated that "quality bus services in this country is but still a pipe dream".
The STAR editorial further continued, in the interest of ordinary folks who depend on buses to move around, the current matter has to be sorted out as soon as possible. In short, the interest of the people or "rakyat" should be accorded due consideration.
However, this is only a short term solution. The long term objective is for all bus operators to sit down together and develop a strategy for the future. Bus companies should come up with a programme whereby punctuality is emphasized. Besides that, reliability should be taken into account. Efficiency of bus companies is also an important consideration which should also not to be forgotten. All in all, it is important to keep the buses running.
The authority that is responsible for the bus companies' welfare, that is the Land Transport Commission (SPAD), must do the correct thing for now. The bus operators on the other hand, must work out a long term solution. If the present bus woes is done right, the number of commuters will, without a doubt increase. The money will then flow in.
The pipe dream of an efficient and profitable bus service will then become a "reality"! The public would then be the ones to benefit tremendously from this success.