It is without a doubt, some jobs or occupations are more dangerous than others. They are considered "risky". In my opinion, drivers who test new cars before they are marketed infact face great risks and dangers.
Airline pilots, for instance, are also termed as high risks performers. But nowadays, many "professions", which were in the old days, considered by people as being safe jobs, are currently turning out as dangerous jobs or duties.
Due to the economic slowdown, which the country is today confronting, more and more people, especially "youths", are becoming unemployed or jobless, so to say. Robberies, snatch thieves, accosting people, especially the gentler sex and old folks, have become a norm nowadays.
Go to any "pasar pagi" or "early morning market" these days and ask the housewives and ladies shopping for their daily food and vegetables, if they have ever been waylaid or robbed, and I am one hundred percent certain, the answer you'll get is an affirmative "yes".
Just recently, at a road side "mamak stall" at my neighbourhood nearby, a group of Indian youths, riding motorcycles, without helmets, sat down at the above said stall and had a "feast". The group, according to my elder brother, ordered roti canai, assorted drinks, chicken curry, mee and nasi goring or fried rice. They were there for hours, laughing and enjoying themselves.
Finally, at the end of the night, when the stall owner calculated the amount of food and drinks that had been consumed by the group of Indian youths, the amount came to a total of approximately RM85. What surprised the stall owner, also an Indian man, was the Indian youths just casually told the stall owner that they possessed no money to settle the amount owed.
What then could the stall owner do? In fact, nothing. The Indian youths just got on their motorcycles and rode off. These are some of the dangers shopkeepers and stall owners face these days.
The above incidents and stories that I have divulged to you, infact has led me to pen this article regarding the risks and dangers faced by driving school instructors these days.
First of all, "instructors" job are considered as risky and dangerous. Some people believe an instructor's duty is as dangerous as a pilot's job. Although I've been an instructor for well over 40 years now, I have never had a Personal Accident(P.A) insurance coverage for myself.
According to friends who are insurance agents, these friends tell me, a P.A. insurance coverage for instructors is very high. Some insurance personal even have advised me that infact insurance companies, as a matter of fact, do not fancy insuring driving instructors. They say, an instructor's job is far too risky and just not worth insuring at all.
Today's article will therefore go onto evaluate how dangerous a driving instructor's work is in reality.
In fact, a driving instructor's duty is actually made "risky" by motorists on the road itself. Permit me to explain to you what it is that makes me arrive at such a conclusion.
Some of the common mistakes drivers and motorcyclists commit against a driving instructor who is out a mission of imparting driving know how to a young, new student must surely be:
i) Overtaking a driving school vehicle in front which has already put on his indicators or signals indicating that he has the intention to turn.
Drivers and motorcyclists who are in possession of qualified license to drive or handle a vehicle, should realize that by overtaking a driving school vehicle in front of him, which has shown its intention to turn, is something extremely dangerous.
As a matter of fact, it can lead to an extremely dangerous collision between you and the driving school vehicle. Without a doubt, driving school vehicle in front of you are travelling at a snail's pace or speed.
But for safety's sake, please bear with us.
Do not attempt to overtake a driving school vehicle in front of you if you see one whose indicators or signals are blinking. Please be patient. Bear with us, I beg of you. Do not attempt to overtake our vehicle. Please, I appeal to you once again.
Out on a mission imparting knowledge of driving to new, inexperienced students, I have often times experienced not one or two but even three drivers overtaking us. It has come to a stage whereby this instructor nowadays fear asking his students to negotiate a corner. I have come to a stage where I always ask my students to look behind and ensure that no cars from the back are trying to overtake us inspite of having put on our indicators.
For drivers who may not be aware of the law, if you should crash or knock into a driving school car or vehicle driven by a "L" license holder, rest assured, that first and foremost, you are in the wrong. What more, where the learner driver has already made known his intention to turn by putting on his indicators or signals. Think about it.
Hopefully it would save you a lot of problems, especially having to go to the police station. Besides this, a collision between the driving school vehicle and your vehicle will cost a lot of time wasting and money to repair the vehicles damaged.
ii) Do not come too near to a driving school vehicle that is being driven by a learner driver.
During the era of the British, that is before Malaya obtained its independence, in 1957, I used to hear my instructors, that is, a Mr. Thia Eng Hock and a Mr. Tew Hock Lai, telling me that motorists should ideally keep a safe distance away from driving school vehicles. A motorists that chooses to come too near or close to a driving school vehicle is looking for trouble, so to say.
Do not look for trouble unnecessarily. Remember, do keep away from "L" driven vehicles if you possibly can!
iii) Do keep away or give way to driving school vehicles especially at roundabouts and junctions or traffic lights.
Especially at roundabouts, driving school vehicles sometimes find it very difficult in coming into the main stream of the roundabout. As I said earlier, do bear with driving school vehicles. Do give way and practice some courtesy. Please accord us the right of way.
We, the students who are learning, including this instructor, will be forever grateful if you accord us the right of way. Who knows, it might even prevent on accident from taking place.
iv) Please refrain from horning or hooting at driving school vehicles.
Some people say, horning at other vehicles or drivers amount to being discourteous. For your information, some testers are not too happy with students who use the horn too leniently. As such, I have gone onto advise my students to use the "horn" sparingly to avoid being blacklisted or termed as being discourteous.
As such, you as a passed license holder should always remember this popular maxim, "please refrain or abstain from horning at us driving school vehicles". We will appreciate it very, very much.
v) Kindly refrain from overtaking a driving school vehicle on the left hand side of the road.
Overtaking on the left is not only not allowed, it is also a very dangerous move. As an instructor, I'm fully aware that driving school vehicles sometimes do move on the road rather slowly. It irritates many drivers, especially the young ones.
But allow me to say something to you. Do remember, "Patience is indeed a virtue". In our national language, which is Bahasa Malaysia, there is a popular Malay proverb or saying, which says, "Kesabaran adalah sesuatu iman".
Do think about it. And hopefully, you'll make the correct decision., I hope. Anyway, the act of overtaking on the left hand side of the road is not only dangerous, but contravenes traffic rules as well.
As instructor's duty as it is, is already a difficult one. Do not make it anymore difficult for the poor instructor out on a mission to teach a novice safe driving! After all, without instructors, where will we find competent and safe drivers on our roads.
The public is therefore requested to make a note of the things which I have highlighted. Please refrain or abstain from doing them, thus making the instructor's job easier and in the long run, less risky. All instructors in this country will appreciate your co-operation very much.

Although I provide driving lessons to students who possess L licenses, nevertheless, from time to time, I do agree to conduct "refresher" courses for students who possess "P" or provisional licenses too.
Some young drivers, who have just obtained their "P" license, discover that they are not competent enough to drive well. Parents, who are concerned with their children's ability to drive safely, are therefore placed in a predicament upon discovering that their siblings are incapable to drive well. This is inspite of being given some 10 – 16 lessons or more by their previous instructor or instructors.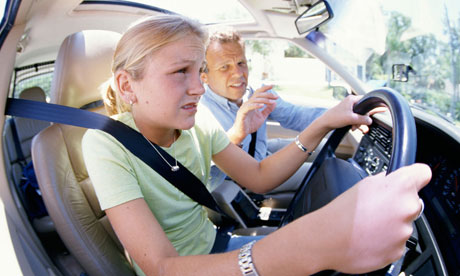 This was what led a Mdm. Yu, from Port Klang, who chanced upon reading my blog not too long ago. The above mother, a part time consultant with a logistics firm, contacted me about her son's inability to drive safely and well.
It should be made known here that with 41 over years experience of giving driving instructions to students, I do not fancy giving "refresher" courses to students, except may be to my own students only.
Students who intent to do a refresher course take up a further 6 – 10 lessons under me to better themselves in the art of driving. I charge RM25 per hour for such classes. However, the charges for refresher courses can even go up to RM50 an hour.
A few years ago, I taught a housewife, from Kg. Delek, Telok Pulai, Klang, how to drive in her husband's 2850 c.c. new Pajero. For readers' information, teaching someone who is not competent in driving, especially in a big and powerful vehicle, such as a Pajero, is no mean task.
In fact, while tutoring the housewife mentioned above, my "boss", Mat Saat, from Sekolah Memandu Mat Saat, saw me imparting refresher lessons in the Pajero, and hollered, "What on the earth are you doing?", he inquired. "How in the world can you envisage doing such a thing?", he said.
In reality, teaching refresher courses in a Pajero is indeed dangerous! For those who are unaware, the Pajero's handbrake is located on the driver's side, below the dashboard, next to the driver's right knee. As such, an instructor, infact has no opportunity at all to use the handbrake to assist her when emergency situations arise.
It is hoped that other instructors who are reading this article would not contemplate doing what I have done. It is infact, a "stupid" act!
In a half an hour interview over the phone recently with Star's feature writer, Rashvinjeet S. Bedi who had wanted to write an article entitled "Parents' misplaced love puts young lives at risk", amongst other things, I was quoted to have reiterated that "many driving schools nowadays are more interested in making money, instead of imparting the correct knowledge of driving. They are just interested in churning out students, who in reality, can't drive properly. New drivers are not getting enough practice hours on the road."
Readers may wish to know, what does a "refresher" course entail? First of all, permit me to tell readers that a "refresher" course can be done in 2 ways:-
1. Using the driving instructor's driving school or institute's vehicle to brush up or improve the student's apparent weakness and defences.
2. Using a student's own automatic car to better his or her ability to drive well.
The second alternative appears to be a better choice as it will provide a student the chance to get used with his or her vehicle eventually. Whatever it is, the rates for refresher courses remain the same at RM25 an hour. The maxim followed by many driving schools appeared to be, "it's not whose car or vehicle were using. It's the time, which we impart upon teaching you how to drive well that counts."
What do I out on a mission of conducting refresher classes do upon meeting with a student for the first time?
Ideally, check the driving license to see if it's valid, meaning, it's not expired. Find out a few things about the student. Things like which driving school taught him, how many hours of driving did he or she undergo and has the student ever been given the opportunity to drive in towns or otherwise.
These are important things a good instructor should know. All these will go a long way to assist the instructor in preparing the student for a refresher lesson.
My observation upon "P" holders show that, amongst some of the major weaknesses of "P" drivers are:-
1. Incapable of stepping on the accelerator correctly, thereby causing the vehicle to stall.
2. Inability to take a corner correctly, thereby causes the possibility of a near collision.
3. Not ensuring that a vehicle is in "free" gear or otherwise before switching on the engine.
4. Unable to evaluate which correct gear a vehicle has to be in.
5. Many students tend to turn their heads to the rear when asked to ensure if there are vehicles approaching from the rear. They should infact use the side mirror instead.
6. Many "P" drivers are found to change gears incorrectly. They tend to enter gear 4 instead of the required gear 2, causing the vehicle to vibrate violently.
7. A tendency to leave up the clutch too fast thereby causing the vehicle to jerk abruptly. This pertains especially to gear 2 and 3 specifically.
8. Finally, it has been observed too that many "P" drivers fail to ensure that the coast is clear before they drive off.
The above are some of the weakness which many "P" drivers suffer from. During the "refresher" courses, a good instructor should emphasize upon the 7 or 8 weaknesses I have mentioned above. It is only through a determined effort, which will eventually improve a "P" driver's ability to drive well.

Highlighting One Of Klang Town Most Popular Driving School – Sekolah Memandu Sentosa
My teachers used to advise me, if you think you are smart, don't forget, there's always someone who is smarter than you. I have been a driving instructor now for 39 years. But I have a friend, Mr. Chin Yon Hook, who has been an instructor since 1967. That totals 42 years!
Today, I would like to highlight one of Klang town foremost and well known driving school – the Sentosa Driving School.
The word "sentosa", means tranquility. In short, it means a business that would run smoothly, without any upheavals.
This popular driving school was started by my close buddy, Mr. Chin Yon Hook and Encik Abdul Rahman. Its office was located in Taman Berkeley, Klang.
The founding of Sentosa Driving School or Sekolah Memandu Sentosa, was made after Malaya achieved its independence. To be exact, it was set up in 1967.
Before setting up this school, Mr. Chin worked with the Klang & Coast Driving School, under the control of Mr. Khoo Boon Kim. Later, another relative, a Mr. Kim Tian, was to join Mr. Khoo in his enterprise.
According to Mr. Chin, the proprietor of Sekolah Memandu Sentosa, is of "Khek" origin. Mr. Chin, was born in Klang.
Prior to setting this driving school, which was to grow rapidly to become one of Klang town's most well known driving school, Mr. Chin worked with Lam Soon Soap Factory in Petaling Jaya.
Mr. Chin, told me in an interview, in the early days, few people learned driving then. Petrol was only RM1.30 per gallon. The R.I.M.V. (Registrar and Inspector of Motor Vehicles ) then had its office located in front of the Odeon theater in Jalan Batu, Kuala Lumpur.
Delving into his memories, Mr. Chin said the Director of the R.I.M.V. then was Mr. Kok Chee Sun. When pressed further, Mr. Chin said learning driving at that time was only RM130. Presently, the price of learning how to drive a car is roughly RM850 – RM1000. Furthermore, most driving schools then were using Mini Minor cars.
Coming back to relate the history of Sekolah Memandu Sentosa, it was given to operate under permit B/PSM/0110. Mr. Chin himself used a Mini Minor vehicle registration number CB 5237.
Sekolah Memandu Sentosa was to grow so rapidly that within a short period of time, it was to become one of Klang's most popular and well known driving school.
Today, Mr. Chin is better known as C.B., a name which soon stuck to him as the registration number of his car. That's how popular and well known he was to become!
According to Mr. Chin, driving instructors in those days did not possess the S.M.2 or certificate to teach. All one needed was 3 years driving experience.
When asked, what was the most memorable incident he could remember regarding the driving school industry, Mr. Chin without hesitation said, "the burning down of the J.P.J. office in Petaling Jaya in 1974".
And when asked again, why the Sentosa Driving School grew so fast to become one of Klang's elite driving schools, Mr. Chin said because:
i) Sentosa Driving School capability to do things which other driving schools could not do.
ii) Its aggressive attitude which led it to achieve many things which others couldn't.
Mr. Chin, as the business proprietor, was to lead it to become one of Klang's top driving schools. Only the people in Klang can verify this authenticity.
Why was his business able to rise above the other driving institutions in Klang?
Mr. Chin believes his good rapport with a few top officers of the Selangor J.P.J. was responsible.
For your information, Mr. Chin was elected as the leading driving school's spokesman. He eventually became the President of the Klang & Coast Driving Association.
Sekolah Memandu Sentosa, was given the opportunity to set up its own pool car, challenging Klang's Pool Car establishment.
Over the years, thousands of students have passed through the hands of this renowned driving school instructor.
When asked, which car represents the best model to be used for driving by students, without hesitation, his reply was the Datsun 1200. Costing only approximately RM6700 then, its low fuel consumption, its durability and its lasting steering makes it a top vehicle for driving tuition purposes.
Sentosa Driving School was amongst one of the earliest driving establishment in Klang town was to be given the responsibility to conduct the K.P.P. (Kursus Pendidikan Pemandu) 5 Hours course. For this, Sekolah Memandu Sentosa was lucky to obtain the service of top J.P.J.'s officials in the likes of Encik Hamzah and Encik Sanusi, who has since passed away.
Sentosa Driving School is still operating rather actively in the field of providing driving tuition to Klang residents, even today. Presently, Mr. Chin Yon Hook operates directly from his house, which acts as an office. During school holiday seasons, Mr. Chin would have more than 50 potential students calling him for his service!
What was Mr. Chin's opinion regarding the impending proposal to the introduction of "auto" car into the driving school industry?
He was surprisingly against this movement.
Why? Because according to him, those who learnt in auto cars will in future not be able to drive G.D.L. vehicles which are mostly "manual" geared.
Having been involved in the driving arena for over 42 years, what was his most disappointing moments with his students?
To this he reiterated, some students have approached him requesting for "special test", as they said they wanted to migrate overseas top pursue further studies. To his dismay, he has met many such students in his visit to England for example. These students are now working in restaurants there instead.
After 42 long years in the driving industry, does Mr. Chin plan to retire from this industry eventually?
Mr. Chin says he plans to continue as long as health permits. Helping people to secure a driving license is his most ardent wish.
Has he ever helped deserving students to secure licenses?
To this his reply was Yes!
Poor parents who approached Mr. Chin have been given special treatment. Well, that's the type of person Mr. Chin is!
What does Mr. Chin's regard to the introduction of driving institutes in Malaysia today?
To this he laments, it has diminished driving school's chances to do business. This has also led to the demise of many driving schools in Malaysia today.
What, amongst the services does Mr. Chin's Sentosa Driving School provide to the public today? The services are:
i) Undang-undang tests services.
ii) Renewal of road tax and licenses.
iii) Insurance services.
iv) Services regarding loss of license etc.
Mr. Chin, one should be informed, is an avid traveler. He has gone to many countries across the world such as South Africa, England, Canada, Australia, Hong Kong, China, Indonesia etc.
To end this article, it must be made known, Mr. Chin Yon Hook, an experienced driving instructor of over 42 years is extremely lucky to be blessed with 3 children. He has 2 girls and a boy.
His eldest daughter is currently working as an air hostess with Singapore Airlines. The second is in England, working as a beautician. The youngest boy is currently pursuing his further studies in England.
Talking with this dedicated driving school instructor, I get the feeling that the death of his wife many years ago, still affects him.
Amongst his aims, is to meet people of all walks of life who are smitten with illness and help them wherever possible.
Mr. Chin has surprisingly remained single, even though, his wife passed away more than 15 years ago.
Asked if he still possess the "dream" of setting up his own institute one day. Mr. Chin Yon Hook reiterated, "I certainly do!".
To that, myself, who happens to be a close friend of his, wishes him all the very best. May his dream become a reality!
And where does he intend to set his latest institute?
In Taman Sentosa, Klang of course!
By the way, Taman Sentosa bears his driving school name, do not forget that. Funny isn't it?
If you have any question in regards to Mr. Chin Yon Hook and his driving school in Klang, feel free to put your question in the comment section below.
Best regards
'Cikgu Yap