I enjoy sharing interesting articles with readers of this blog. With this in mind, a recent article which appeared in a local newspaper entitled "Traffic Cops in India to Go Mystic" has intrigued me. I therefore decided to relate it for the reading pleasure of all readers.
First and foremost, "pyramids", which were used by the Egyptians since the early days of the Pharoahs, are said to possess "mystic" powers. "Mystic" has been explained by certain dictionaries as "something which causes a feeling of amazement".
In today's world, many countries, including Malaysia, are very worried about the high rate of accidents, which the nation faces. With this in mind, our Road Transport Department announced very recently, its intention to implement the Automated Enforcement System (A.E.S.).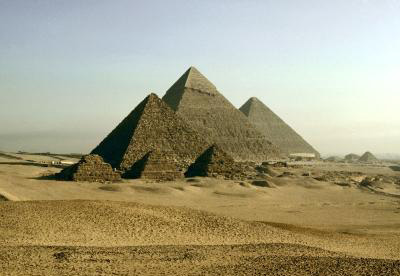 For your information, with the above system, some 1,200 closed circuit television cameras will be installed at all accident proned areas throughout the country.
Besides Malaysia, India, which is reputed to have an accident rate, the 2nd highest in the world, the first being China, has recently been said to be experimenting with pyramid powers to reduce accidents. Pyramids, which have been credited with supernatural or paranormal properties since the days of ancient Egypt, will now be adopted or harnessed by the Indian police to minimize road accidents there.
It has been reported in Mumbai, formerly known as "Bombay", that traffic authorities there in Nagpur, 870km west of Mumbai, will be using "small pyramids", which will be placed at 10 accident proned areas in the city to see if their claimed "positive" energy can reduce accident crashes.
According to the Assistant Commissioner of Police (Traffic Division), Sahebrao Patil, this innovative idea was mooted after a meeting with a "Vastu" expert. "Vastu" is an ancient Hindu system of construction which is reported to be very similar to the Chinese "feng shui".
Mr. Patil, the assistant commissioner said, he had placed a number of such pyramids on the roads outside the city, and the results have been found to have been encouraging. Suggestions to have the idea implemented in the city have not been met with any disapproval from the Police Authorities.
The idea of installing pyramids at 10 spots will begin shortly. Pyramids will be placed at "squares" or near traffic lights, so that they won't disrupt traffic movements.
According to Vastu expert, Sushil Fatehpuria, each pyramid will have a copper bottom and five smaller pyramids inside. He believed that accidents are a result of negative forces. Minimizing or converting these forces into positive energy might therefore reduce accidents eventually. The "pyramids" will be energized and positive thought will be transferred into the pyramids.
Whatever it is, Bombay's police officers will however continue with "human power", in their efforts to reduce accidents. A wise move, I would say.
This innovative idea of the Bombay police department is to continue for the next 6 months. If positive results are achieved, then, that would be excellent.
India's rise in accident rate is believed to have been attributed to a combination of an increase in drivers, many of them untrained, poor road planning and a lax law of enforcement. All these, have led India's roads to become one of the most dangerous in the world today.
The world as a whole, especially we in Malaysia awaits India's mystic experiment with the ancient pyramids. If successful, who knows, our Road Transport Department chief, Datuk Sureet Singh, might even be tempted to adopt it into our system after all!
For readers' info, the only pyramid system currently being used by Malysians, is the "pyramid" system of selling things. Unfortunately, this mode of selling or doing business is deemed "illegal". And Malaysians, are strongly advised against participating in it!
To conclude this interesting article, it should also be reminded that Malaysia has many "feng shui" experts in our midst, in the likes of Lillian Too and Joey Yap. Who knows, one day, their services might one be garnered to assist the country in reducing road accidents here as well.
Malaysia, which has only a population of approximately 30 million, including Sabah and Sarawak, unfortunately is ranked as having one of the highest rates of accidents in the world today! Something has to be done. "Feng shui" may very well be the answer!
Who can anticipate, like Spain, which became 2010 World Cup winner, Malaysia would one day become the leading nation to use "feng shui" as a means of combating rising road accidents!